"Distinctive," "Quick," "Puts the 'S' in SUV" – See Why Experts Hail the 2020 Maserati Levante
The 2020 Maserati Levante Is Perhaps the Most Thrilling SUV Ever Built
In recent years, no SUV has been met with as much acclaim as the Maserati Levante. As the brand's first SUV, it had a lot to live up to, and it delivered upon all expectations and then some. Now the 2020 Maserati Levante has experts saying that this already renowned model continues to get even better.
Let's take a look at a few reviews of the 2020 Levante SUV:
US News Rankings and Reviews
"The 2020 Maserati Levante boasts powerful engine options and sharp handling."
Edmunds
"Design differentiates it from the sea of look-alike crossovers…Turbocharged V6 and V8 engines provide quick acceleration…Suspension enhances ride comfort and handling around turns…Highly customizable interior."
TopGear
"Plush cabin…Plenty of space…Decent corning…The Maserati name itself."
Kelley Blue Book
"Distinctive styling…Quick acceleration…Lots of room for personalization."
CNET Roadshow
"More svelte than its competitors, while still offering lots of little details that catch the eye in pleasing ways…Standard equipment on the base Levante is fairly extensive… There are a ton of options for the Levante, not just in the comfort and convenience department, but in the styling department as well."
Motortrend
"Puts the 'S' in SUV…Great sounding exhaust note…Powerful Ferrari-built engines…Figuring out how to turn a high-riding SUV into a thrilling driver's car is no easy feat, but Maserati's engineers cracked that code with the Levante."
Bottom line, if you're looking for luxury, versatility, and performance, the 2020 Levante delivers.
2020 Maserati Levante Interior and Specs
Now let's look at a few 2020 Maserati Levante specs, and learn more about its interior.
There's been a lot of talk about the power generated by the Levante's Ferrari-built engines, and with good cause. With engines spanning 345 to 590 horsepower, even the base trim delivers a 0-60 time of under 6 seconds. Step up to the Trofeo edition and you'll be hitting 60 in a mere 3.8 seconds.
As for the 2020 Maserati Levante interior, you'll enjoy an array of luxury elements and features such as top-quality materials, a state-of-the-art infotainment system, a rear view camera, a premium Harmon Kardon Sound System, and much, much more. What's more, with Maserati's Level 2 Advanced Driving Assistance Systems (including the all-new Traffic Jam Assist) you can drive with greater safety and convenience.
On top of all that, you can choose a variety of features that bolster the Levante's versatility, including luggage and bike racks, unique wheel rims and tires, and special protective gear.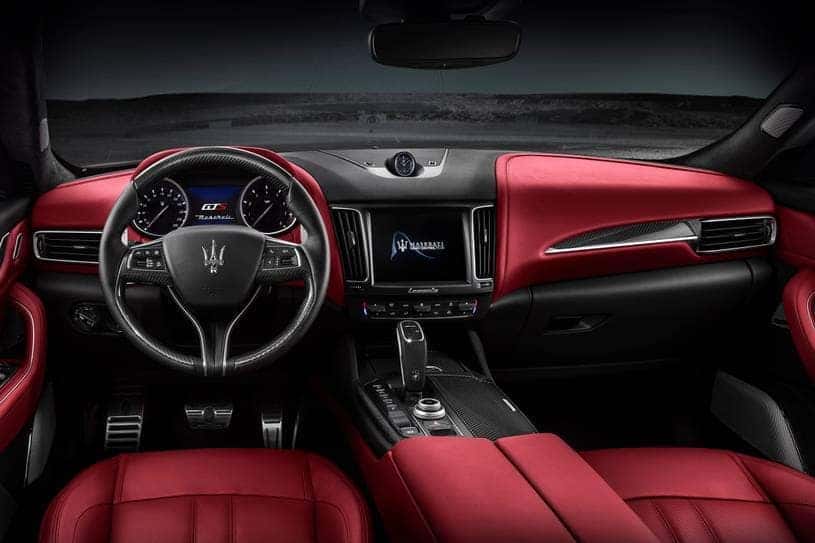 Test Drive the 2020 Levante at Your Home or Office
These days a lot of people are worried about how they can shop safely, and at Maserati of Tampa we've got you covered with offsite test drives. All you need to do is set up a time, and we'll bring the 2020 Maserati Levante directly to your home or office.
What's more, you can handle all scheduling and transactions online without taking a step out your front door.
Check out our current selection of the 2020 Maserati Levante online now, or call Maserati of Tampa at (813) 933-2811 today.